Put Up Your Dukes!
With Jill Sorensen
Blue Oyster Art Project Space | June-July 2013
Click here to read James Dignan's review in the ODT
It was over a convivial coffee that the stoush started. Perhaps that coffee happened around 2005, when they first shared a studio together and got to know each other. Perhaps it has happened with every coffee over the last eight years. But the coffee, when one said t'other, 'put up your dukes!' was 2012.
What caused this stoush? Maybe it was an askance glance and a raised eyebrow when discussing an idea for an artwork ("are you really thinking of doing that?"); suspicious, but perhaps also a tiny bit jealous… Maybe it was the realisation that each is able to do what the other would like to do but can't do. The poetic inversion they found between their practices/personalities sowed the seeds of a debate.
The resulting project, Put Up Your Dukes!, is a standoff, an exhibition that takes the form of a visual debate between Auckland-based artists Gabrielle Amodeo and Jill Sorensen. Each artist states their case and elaborates on their claim to a single territory. The moot:
In art, as in life, we occupy an ad-hoc[1] middle ground in which the only certainty is the impossibility of certainty.
The proposition for an exhibition based on the seemingly extreme and sometimes irreconcilable differences in their practices has grown out of their long history of enjoying each other's work and wanting to show together, but struggling to find common ground to start from.
Sorensen states:
I am interested in the territory in which art abandons good-sense to joyfully embrace the vernacular of the stupid, the obvious, simple, pointless, pleasurable, silly, excessive, lazy, expedient and useless.
Amodeo Proposes:
Labour as its own reward / the person who cuts his own firewood warms himself twice / validation through accumulation (being able to cite a big number validates a project) / refer to things obliquely, answer questions with questions.
The exhibition utilises the structure of the Douglas-Lincoln debate format used in the campaign for the Illinois senate in 1858 between Abraham Lincoln and Stephen Douglas.
In the build-up to this exhibition new works have been developed in a call / response fashion and use the idea of nature as a foil, a subject matter and directive, but the debate itself centres around the artists' different methodologies.
The artists have considered their works in relation to the time allotments of the debate; the affirmative has the time allotted in four parts, the negative in three. Thus, Sorensen who has taken the affirmative side has four 'smaller' works, whereas Amodeo, who has taken the negative, has three 'larger' works. The idea of time translating into space is by nature subjective; the concepts of small and large, long and short, differ according to each artist's practice.
By positioning the exhibition on differences instead of commonality the project lends itself to a certain amount of posturing, circling and marking of territory through hyperbole. Initially the artists went to those points of their practice that offered the most extreme opposition to the other (what Sorensen calls indulgence in her comfort zone and Amodeo calls entrenchment in her fundamentalism).
And because of this the project, at least superficially, bucks the trend of constant forward-moving development in an art practice. This place of indulgence or entrenchment is what an artist knows he or she is instinctively drawn to, and will mostly try to temper in some way.
The debate unravels through the gallery. At the beginning of the installation Sorensen chose the space in the gallery for her affirmative constructive forcing Amodeo to respond both to her work and the spatial decision with her cross-examination.
But the project flips expectations: though trying not to forge new territories in their practices, the artists accidently forged new territory; through exemplifying their extremes they found a backdoor way of collaborating.
Perhaps it never really was a stoush as there was always a hint of reconcilement. Through this process Amodeo and Sorensen found that to argue doesn't necessarily mean to disagree, that call / response can be, but isn't always adversarial, and that while they stake their own territory each artist borrows from, and overlaps, the other.
[1] Ad hoc is a Latin phrase meaning "for this". It generally signifies a solution designed for a specific problem or task, non-generalizable, and not intended to be able to be adapted to other purposes […] Ad hoc can also mean makeshift solutions, shifting contexts to create new meanings, inadequate planning, or improvised events.
http://en.wikipedia.org/wiki/Ad_hoc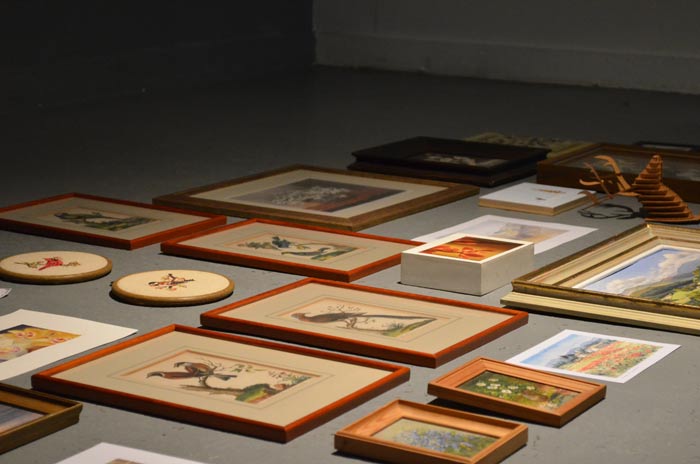 The Pictures and Things from Our Walls
Variable Materials, 2013

The Pictures and Things from Our Walls
Variable Materials, 2013
Put Up Your Dukes!
(Installation View | JS front; GA back | 2013)
PODOCARPACEAE / Dacrycarpus – PANDNACEAE / Freycinetia
(Book and Cuttings, 2009-2013)
PODOCARPACEAE / Dacrycarpus – PANDNACEAE / Freycinetia
(Book and Cuttings, 2009-2013)
PODOCARPACEAE / Dacrycarpus – PANDNACEAE / Freycinetia
(Book and Cuttings, 2009-2013)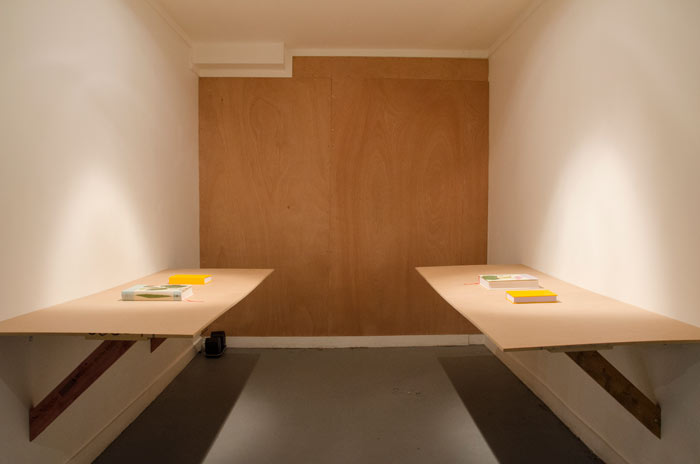 Sound and Vision
(Books and Sound Work, 2013)
Sound and Vision
(Books and Sound Work, 2013)
Sound and Vision
(Books and Sound Work, 2013)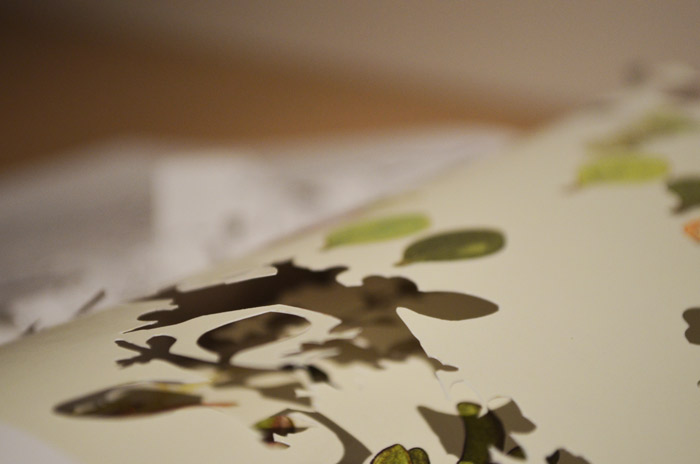 PODOCARPACEAE / Dacrycarpus – PANDNACEAE / Freycinetia
(Book and Cuttings, 2009-2013)
Put Up Your Dukes!
(Installation View | JS front; GA back | 2013)